Press Releases
Magazine
Newsprint
Web
Television and Video
Radio
Awards
Background Information
Mission of GenGreen
CEO Biography
History of GenGreen
Affiliations
Partnerships
GenGreen Logos
Follow GenGreen
Testimonials
Contact Us
---
GenGreen Logos
By downloading the following logos, you are agreeing to the terms of use.
GenGreen Company Logo
Download (3KB)
GenGreenLife Product Logo
Download (6KB)
---
Follow GenGreen
You may also find GenGreen at:
GenGreenLife.com Blog
Twitter.com
Facebook.com
MySpace.com
You may also find articles written by GenGreen staff in the Fort Collins Coloradoan and The Healing Path.
---
Testimonials
Read what professionals and individuals are saying about GenGreen and GenGreenLife.com.
---
Contact Us
MEDIA CONTACT:
GenGreen, LLC
415 Mason Ct. Suite 1
Fort Collins, CO 80524
media@gengreenlife.com
Press Releases
1-800-Recycling.com Partners with GenGreen
Los Angeles, CA | August 18, 2010 | It was announced today that 1-800-Recycling.com, an interactive nationwide company dedicated to simplifying and enhancing the consumer recycling experience, has partnered with GenGreenLife.com, a leading online resource for people looking to live a locally-focused, environmentally conscious lifestyle. The two organizations have agreed to pool their resources and exchange recycling location listings from their respective databases.
> Full Story
View all [+/-]
Magazine/Print
Irish America's Annual The Business 100
by Irish Central – Irish America Magazine
Irish Central, January 20, 2010
Avoid Green Backlash
By Lindsay Holloway
Entrepreneur Magazine, June 2009

One-month Makeover: The Best Ways to Love the Planet
SELF, August 2008

Which Green Certifications for Restaurants Are Best
QSR Magazine.com, March 2009
Newsprint
Make Me Greener, Please
By Mireya Navarro
NY Times, June 10, 2009
View all [+/-]
Web
Top 5 Green Apps for iPhone and Android
z1nemo – EcoInstitution
EcoInstitution, August 19, 2010
View all [+/-]
Television and Video
iPhone App Allows Busy People to Go Green
Derek James – Fox Charlotte
Fox Charlotte, April 21, 2010
View all [+/-]
Radio
Radio Netherlands Worldwide Earth Beat, June 25, 2010
Interview
Women's Radio, December 22 – 28, 2009
Interview
Connecting the Green Dots
by Green is Good
Green is Good, October 29, 2009
KRFC, March 10, 2009
KFWB News 980, February 26, 2008 – Disney Going Green
Part 1
Part 2
Colorado Public Radio, August 17, 2007
Windows Media
MP3 Format
Awards
GenGreen Receives Environmental Award from Fort Collins Area Chamber of Commerce
February 2009
GenGreen LLC was recently recognized for its excellence in environmental practices at the Fort Collins Area Chamber of Commerce's Annual Dinner.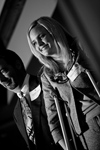 Each year the Chamber Environmental Business Award honors member and non-member businesses that make environmental improvements in daily operations recognize the value of using environmental products to enhance their corporate bottom line and play an active role in the local and global community.
GenGreen received the Rising Star award for a small business that was a member of the Chamber. Sustainability in the office is important to GenGreen, and current efforts are listed under "About GenGreen" on www.GenGreenLife.com.
Click here to read the article in the June 2009 Fort Collins Chamber of Commerce Compass (page 14)

Photos courtesy of Harper Point Photography
Background Information
Mission of GenGreen
The goal of GenGreen is to be the most comprehensive and diverse resource available for people looking to live a locally-focused, environmentally conscious lifestyle.
CEO Biography
Charisse McAuliffe, Founder and CEO

Download biography (2 kb)
Download headshot (611KB)
History of GenGreen
Download history (3 kb)
Affiliations
GenGreen is proud to support and be a member of the following organizations: